Hey y'all, and happy Friday! The weekend couldn't come soon enough after this week's action. We've all earned that extra drink. 🍷 😅
The Nasdaq plunged 0.96% today and finished the week down 4.53%. It wasn't tech's week, to say the least. The small-cap Russell 2K index dipped 1.2% and closed the week at lows. The S&P 500 was the strongest index, but still lost 0.40%. 💔
GameStop jumped 22% higher this morning after moving into the NFT space. 🚀 🚀 More on this below. Here's the daily chart:
Banks ascended into the weekend — the financial ETF$XLF flew 1.18% to all-time highs. Energy expanded another 1.37%.
Employment in the United States increased by 199,000 jobs last month, significantly under the figure projected by experts. Despite this, there were highlights in the report, like the unemployment rate decreasing to 3.9%. 🌪️ Read more below.
Crypto is still crumbling. 🙄 Ethereum faded 5.6% to $3,200 and Solana sank 7%.
Virgin Orbit Holdings soared 24.19%. 🚀 🌙
$DISCA ripped 16.87%,$SBR surged 10.19%, and$DASH.X dashed 7.25%.
Here are the closing prices:
| | | |
| --- | --- | --- |
| S&P 500 | 4,677 | -0.40% |
| Nasdaq | 14,935 | -0.96% |
| Russell 2000 | 2,179 | -1.20% |
| Dow Jones | 36,231 | -0.01% |
---
The market was a tornado this week as payrolls and the Fed confused investors. 🌪️
Friday's stocks and treasury yields reflected investors' confusion over mixed job numbers/payrolls. December's unemployment rate fell to 3.9%, but only 199,000 jobs were added last month — that's about 200,000 fewer non-farm payrolls than analysts expected. December's added jobs also showed a serious decline from the average 537,000 jobs added per month throughout 2021. Mixed payrolls data caused the U.S. benchmark 10-year Treasury yield to reach 1.801%, a 2-year high.
By the end of 2021, the U.S. created 6.4 million more jobs than EOY 2020. 👍 That's definitely progress, but still 3.6 million fewer jobs than before the pandemic. The labor market continues to be tight thanks to continuing supply shortages, high quit rates, and rampant Omicron infections. 
Although stocks traded higher on Monday and Tuesday, the Fed's meeting minutes on Wednesday threw everyone for a loop. 🤦‍♀️ The minutes implied an earlier rate hike than what was originally expected due to 'tightening financial conditions' (a likely reaction to inflation.) The minutes also mentioned a significant balance sheet reduction.
Since Wednesday's news, major indexes have traded lower with consumer discretionary and technology stocks losing big. 📉 Bonds yields have gotten a boost. The dollar index fell 0.53%, its biggest loss in 6 weeks.
Gold gained on the news, Bitcoin lost 5%, and crude stumbled 0.52%.
---
GameStop had a wild 2021 as everyone's favorite "Memestock,"and $GMEis certainly not showing any signs of slowing down. The video retailer is now betting on NFTs bylaunching its own marketplace and establishing cryptocurrency partnerships. 🤝
NFTs are a type of digital asset which allow proof of ownership for virtual goods like art, music, etc. stored on a blockchain. The NFT market was extremely successful in 2021, with $22 billion in sales to date. Cha chiiing. 
According to WSJ, GameStop recently hired more than 20 people to run its business unit — the company is building an online hub to buy, sell, and trade virtual video game goods like avatar outfits and weapons. The marketplace is set to launch this year, and the company has already asked developers and publishers to list their games there. 🎮
In addition, GameStop is nearing a deal with two crypto companies to share technology and co-invest in the development of games using blockchain/NFT technology, as well as other NFT-related projects.
In the past year, the Texas-based company has been on quite the roller coaster. 🎢 GameStop's share price was boosted by a stock-trading frenzy, then it suffered a huge loss. Yesterday, after the NFT announcement, $GME soared over 20%. 
By diving into the NFT space, GameStop hopes to become a member of the club of big companies enjoying their successful NFT segments. As part of the new venture, GameStop hopes to cover losses from last year (it's a little too late for that now, though.)
The biggest challenge to GameStop's new venture will be competing with already-established marketplaces like OpenSea, which is valued at $13.3 billion. Crypto exchanges like a href="https://techcrunch.com/2021/12/14/coinbase-will-let-you-view-your-nft-collection-in-its-browser-wallet/">Coinbase and Solana have already entered the NFT market, too. Moreover, GameStop's old video games rivals like Ubisoft Entertainment, Zynga, and Square Enix are established in the NFT space.
In short, it will be interesting to see how GameStop can offer NFTs in a new way on its marketplace. 💡
---
Virgin Orbit Holdings, Richard Branson's other space company, vaulted 24.29% higher after the company rang the Nasdaq opening bell today. 🔔 🚀 The satellite-launching company even brought a full-sized rocket to Times Square for the celebration!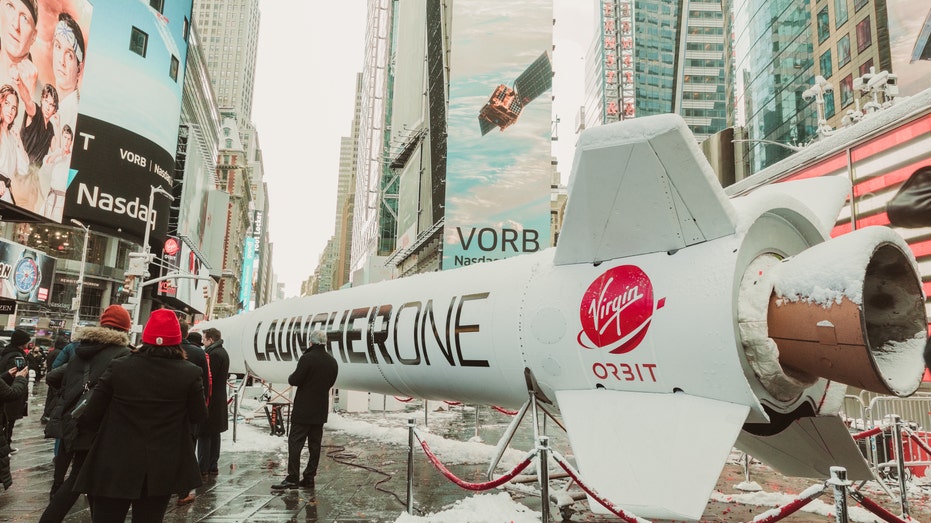 Originally a spinoff from Virgin Galactic, the company went public last Thursday via SPAC with NextGen Acquisition Corp. II under the symbol $VORB.
$VORB raised $228 million from the merger, but fell deathly short of the $480 million that was initially estimated. 💀 The company's PIPE investors include Boeing, Virgin Group, Mubadala Investment Company, and AE Industrial Partners. 
To date, Virgin Orbit has launched 19 successful satellites and expects at least six more throughout 2022. 🛰️ $VORB entered positive YTD territory thanks to today's impressive performance. Here's the daily chart since merging on Dec 30:
---
Bullets From The Day:
Sidney Poitier, the first black actor to receive an Oscar for 'best actor,' just passed away at age 94. Throughout the twentieth century, Poitier denounced racial stereotypes and played lead roles in well-known movies like "Lilies of the Field," "A Patch of Blue," "To Sir with Love," and others. Rest in peace, Sidney. Read more in CNBC.
The social media app Parler just raised over $20 million in funding. Parler is a conservative social media app with over 16 million users; the platform's mission is to provide users with an outlet "against the authoritarian powers of Big Tech, Big Government, and cancel culture." Read more in TechCrunch.
Following yesterday's nationwide rioting in Kazakhstan, the country's president has just given the military 'shoot to kill' orders. Yesterday we reported that Kazakhstan's oil prices doubled overnight, prompting protests throughout the country due to increased fuel prices. Those protests turned violent as civilians expressed discontent with the nation's governing party. Kazakhstan's president just announced "I have given the order to law enforcement and the army to shoot to kill without warning. Those who don't surrender will be eliminated." Read more in NPR.
Airlines in the U.S. have canceled over 1,000 flights per day for the last thirteen days. Airline executives are speaking up about the cancellations — flight crews keep testing positive for Omicron, which results in immediate quarantines for the whole crew. Delta's chief customer experience officer shared "It has been one of the most difficult operational environments we've ever faced, and it forced us to cancel hundreds of flights as a result." Read more in WSJ.
Literally everyone has Covid right now. The 7-day average for cases recorded per day has exceeded 500,000, the highest average number of daily cases since March 2020. It's estimated that a total of 5 million Americans will stay home from work in the next two weeks. The good news? Omicron is resulting in fewer hospitalizations for Covid symptoms. Quarantine guidelines have also been shortened by the CDC for asymptomatic individuals who test positive. Read more in WSJ.